Activities for groups
Unique in France with its museum devoted to the polar regions, an ice rink, a restaurant open for lunch and dinner, and a room for lunchtime picnics, the Espace des Mondes Polaires is an ideal place to spend the day!
Visiting the polar museum
Two options are available to groups visiting the museum:
Self-guided visit: with the help of a map given to you at the entrance, you're free to browse the museum and find the themes you want to explore: fauna, flora, geography, exploration and scientific research, glaciology, peoples, etc.
Guided tour (duration: around 1.5 hrs): a museum guide will tell you about the Arctic and Antarctic "from every angle"!
On leaving the museum, you'll find the latest temporary exhibits and daily films screened in the auditorium.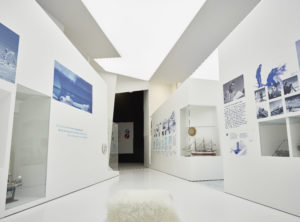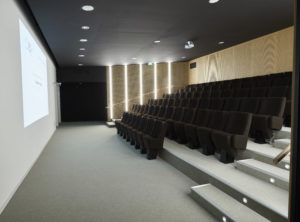 Skating on the ice floe
Accessible to all, the ice rink is a great place for having fun in a polar atmosphere where videos, lighting effects and dry ice transport you onto the ice floe!
The rink has more than 400 pairs of skates available for hire if you don't have your own.
Each group of more than 15 people is given a 2-hour skating slot.
Please note: socks and gloves are mandatory for all skaters.
Themed days
"People and packs"
In partnership with Sentiers Nordiques, a team of professional mushers in Prémanon, the museum offers a full day of discovery and exploration.
"Between ice floes and fine food"
In partnership with the Comté cheese cellars of Fort des Rousses, the Espace des Mondes Polaires offers a day packed with culture and taste sensations.
On the programme:
guided tour of the Espaces des Mondes Polaires museum;
lunch at the "Bistrot Polaire";
visit to the Fort des Rousses cellars where almost 140,000 rounds of the famous Comté cheese are patiently maturing in an exceptional setting.